What a catchy title and concept for a book! Benjamin Hoff was insightful and creative enough to develop a wonderful book called The Tao Of Pooh and its contents are exactly what you might expect from a book with this title.
Here is Wikipedia's definition which I feel is right on: The book is intended as an introduction to the Eastern belief system of Taoism for Westerners. It allegorically employs the fictional characters of A. A. Milne's Winnie-the-Pooh stories to explain the basic principles of philosophical Taoism.
Intrigued? I was so I had to get the book and check it out and these are the types of things I found: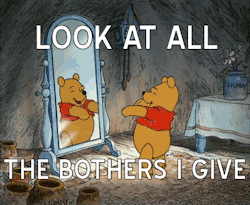 … and Piglet hesitates
… and Rabbit calculates
… and Owl pontificates
…Pooh just is. (cover)"
What a way to start, laying it all out there for us. I'd add more but I'd only be pontificating and calculating so I'll just let it be what it is.
"Rabbit's clever," said Pooh thoughtfully.
"Yes,"said Piglet, "Rabit's clever."
"And he has Brain."
"Yes," said Piglet, "Rabbit has Brain."
There was a long silence.
"I suppose," said Pooh, "that that's why he never understands anything."
Ever get caught up in your monkey-mind? Yeah, me too. Pooh simply knows what he needs to know when he needs to know it. And if you look closely…most things he never knows…because he doesn't need to. We get so caught up in the "whys" and "hows" of things and most often we don't have to know them to do what we need to do. We're just caught up wanting a sense of control over how things are going to happen before we get to the business of just doing them. This is because we long for the sense of safety that control gives us the illusion of. Pooh just lives in a place of safety and trust that it will all work out and it does…always.
"Not like Pooh, the most effortless Bear we've ever seen."
"Just How do you do it, Pooh?"
"Do What?" asked Pooh.
"Become so Effortless."
"I don't do much of anything," he said.
"But all those things of yours get done."
"They just sort of happen," he said"
Here Pooh is explaining how he simply lives in the moment and things somehow get done without all the over-thinking and control. We certainly do have a lot to learn from Pooh and the Tao!
And I'll close with this one:
When you discard arrogance, complexity, and a few other things that get in the way, sooner or later you will discover that simple, childlike, and mysterious secret known to those of the Uncarved Block: Life is Fun.
The Uncarved Block is a reference from Taoism to one who behaves and acts like Pooh. He just is as he is. In Being who he is, things get accomplished, life is an adventure and he is happy. Thank you for your example of wisdom Pooh and thank you to Benjamin Hoff for bringing us these spiritual lessons in such a unique and wonderful way!